SKU: DBR-DT-TCT-1-HUS
Dirttricks Australia Timing Cam Chain Tensioner Husaberg 390 450 570 ( 09-12 )
$229.00
This item is a stocked item. That is we aim to keep it in stock in Australia ready for shipping. Your welcome to call to discuss is it currently in stock and or when we are about to take deliver of more. 02 4872 4222 Thanks.
Description
Automatic KTM Timing Chain Tensioner
- If you have a "ticking" noise at idle, on your newer four-stroke, you need this part. Resolves issues with a slack timing chain on the new four-stroke motors.
- Uses oil pressure combined with a mechanical ratchet system to prevent collapse.
-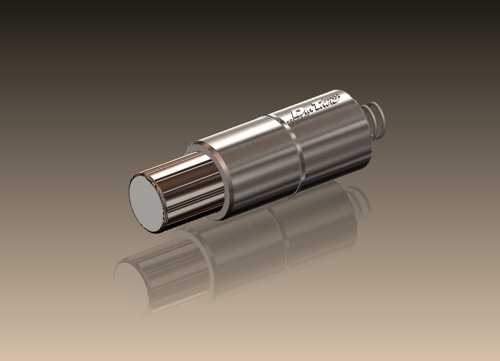 Description
The Dirt Tricks KTM Timing Chain Tensioner resolves issues with a slack timing chain on the new 4-stroke motors. The 2008 and newer four-stroke KTMs (and some earlier SX models) use a timing chain tensioning device intended to develop its force using the engine oil pressure hydraulically. The OEM components have serious flaws, which can leave the timing chain in a slack condition. This can have disastrous consequences. The Founder of Dirt Tricks developed the KTM Timing Chain Tensioner as a simple, effective, and fail-safe replacement for the OEM tensioner. It correctly captures the oil pressure and uses a positive mechanical ratcheting system to prevent it from collapsing. If you have a "ticking" noise at idle, on your newer 4-stroke, you need this part. Our tensioner will work on all newer 4-strokes in 250, 400, 450, 505, 530 models using the RC4, XC4, or RF4 motor (not for the RFS motors).
KTM

:
'05-'12 SX-F/XCR 250 4-stroke models
'07-'11 SX-F/SXS-F 450
'08-'12 400/450/505/530 4-stroke models
All Models KTM 790 / 890 / 950 / 990 / 1090 / 1190 / 1290.

Husaberg

: '09-'12 390/450/570 models
Will

NOT

fit the following:

KTM

'12 SX-F 450 Factory Replica Edition
'13-'Current SX-F 250/450
'12-'Current EXC 500, XC-W 450/500

Husqvarna

: '
10-'11 FE 390/450/570'11
FS 570, FE 570 S
With very satisfying test results from our race bikes, we have completed CNC production of the new tensioner. They can be installed in less than five minutes.
As the spring is inserted and you compress it, you can feel and hear the clicks as the piston ratchets into position. There are a total of 11 ratchet positions at 1mm spacing. If you extend to more than 9 clicks, you probably need to replace your timing chain.
Below is an overview of the OEM design verses the Dirt Tricks design.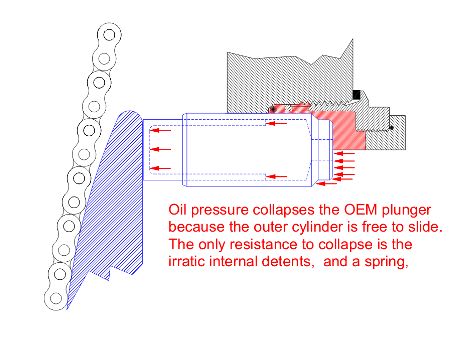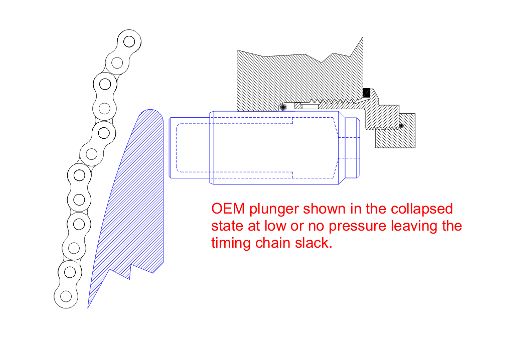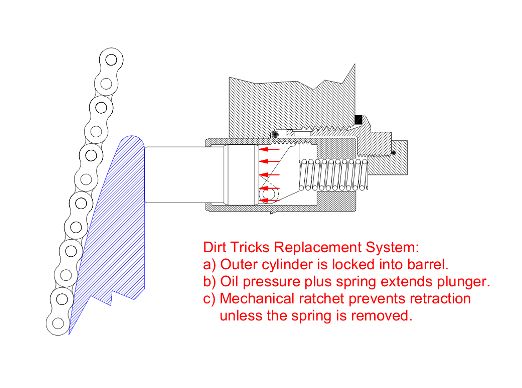 Specifications
| | |
| --- | --- |
| SKU | DBR-DT-TCT-1-HUS |
| Brand | Dirt Tricks |
| Shipping Weight | 0.2000kg |
| Shipping Width | 0.100m |
| Shipping Height | 0.050m |
| Shipping Length | 0.100m |
Reviews
Be The First To Review This Product!
Help other Dirt Bike users shop smarter by writing reviews for products you have purchased.
---
More From This Category