Description
DBR TM Designworks Extreme Chain Guide : $149.00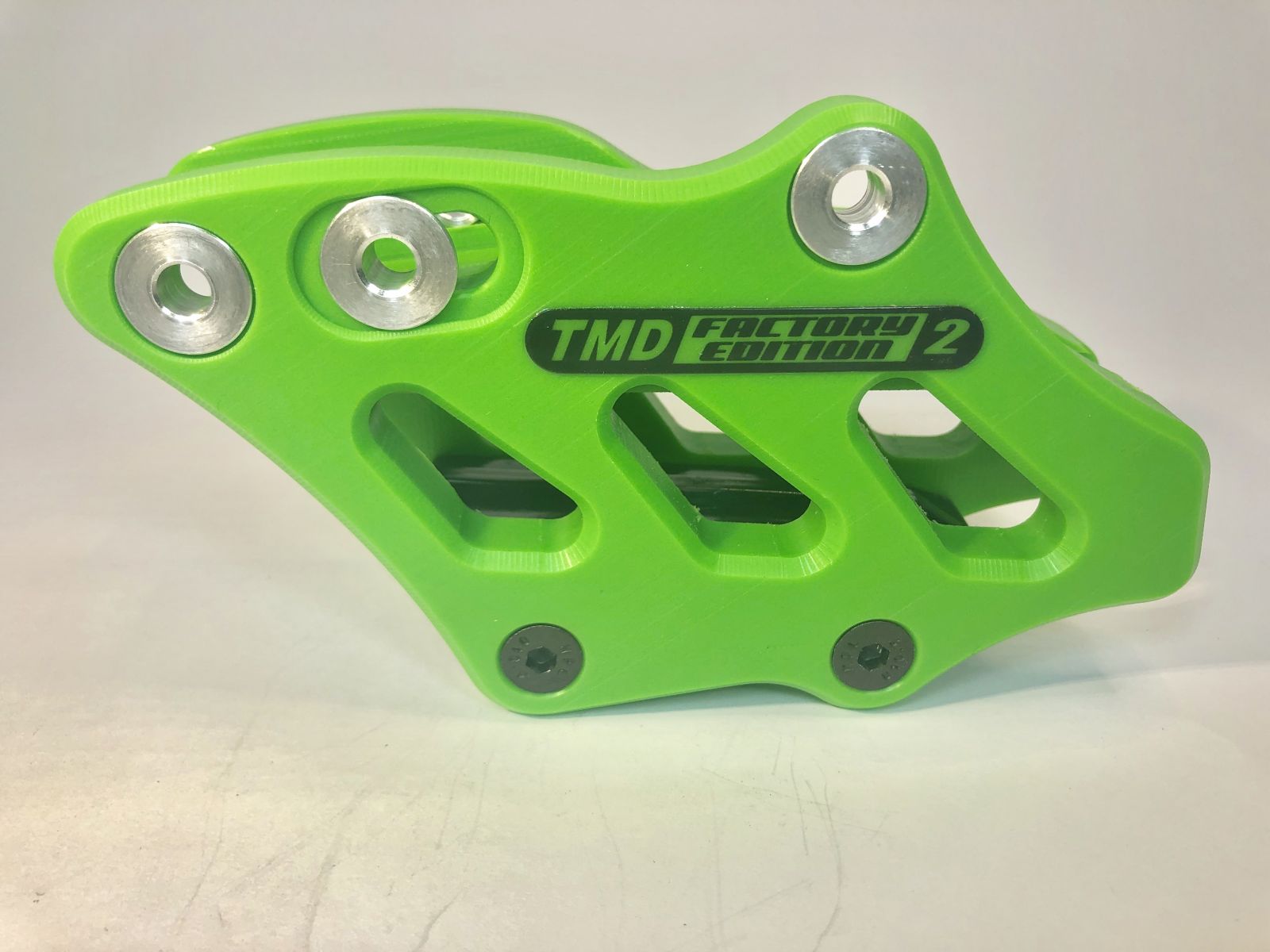 As used by leading race teams in Australia, USA and Europe. The toughest rear chain guide on the planet. The lightweight cosmetic shape incorporates a much thicker than stock wear pad that doesn't compromise ground clearance. The guides patented solid body return memory system keeps the chain guide in line even after heavy impacts.
Available in Black, Blue and Green
Our Kawasaki KX3 model updates features less weight for MX but with extreme off road impact durability.
.A must have purchase for all 2009-> KXF 250/450 owners.
Recommended as The must have product by MXA and most all other Motorcycle-online publications.
Accepts up to 51 tooth sprockets both 2 and single piece designs and any size 520 chain.
Our KX3 is the only impact resistant plastic CUSTOM formula with RMS (return memory plastic) to absorb impacts.
Exclusive plastic formula is the only guide with UV protection + Oil additives to reduce chain drag and chain wear.
Don't get fooled by cheap overseas knockoffs. Their is no comparison to performance and purpose built fit.
DBR TM Designworks Supercross Chain Guide : $149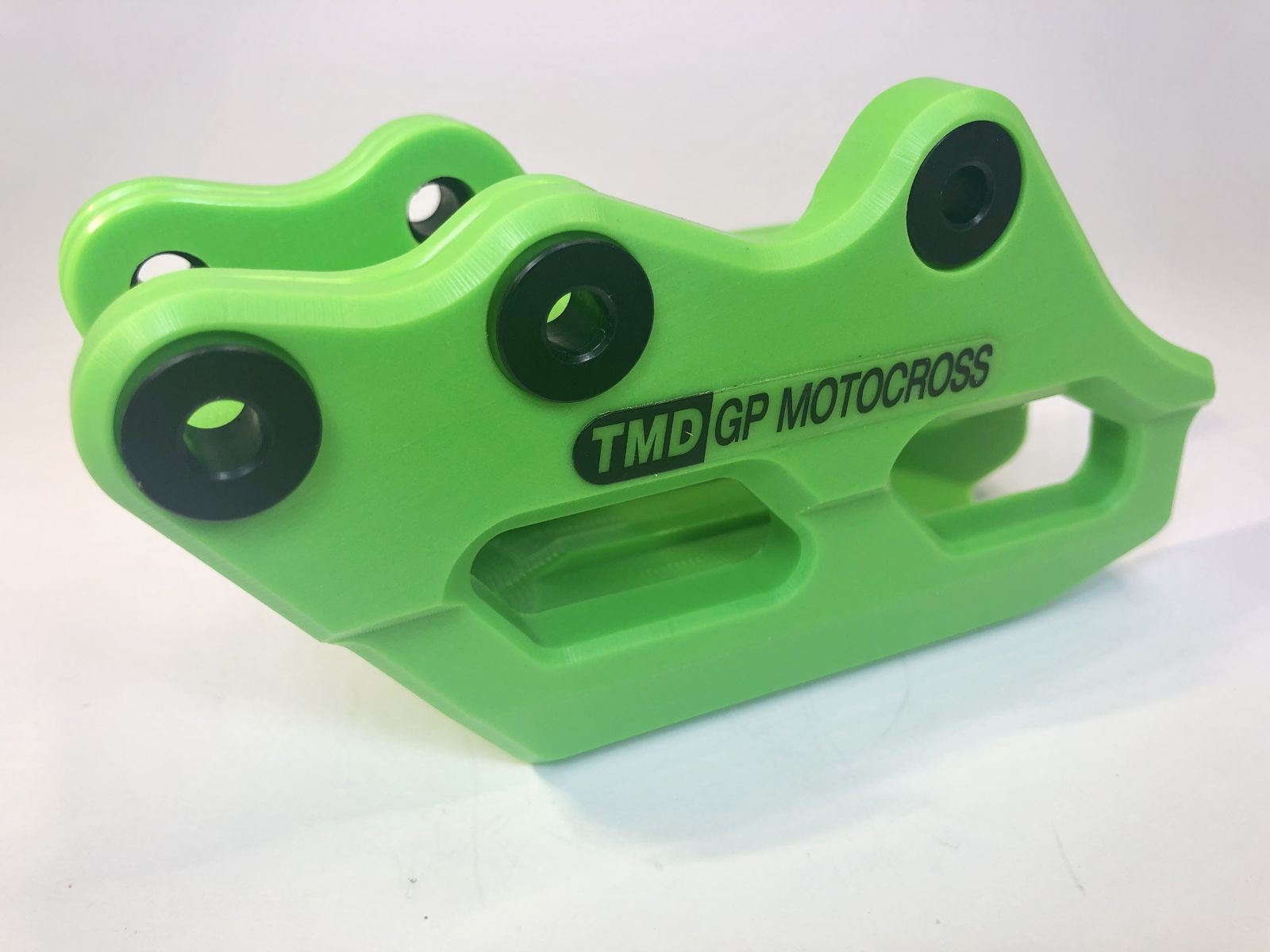 All new "Factory Edition SX" series of Compact chain guides designed just for serious Moto-Supercross riders.
Used and Tested by the SX Lites Rockwell Kawasaki, Monster Energy Kaw Germany, Buds Racing, Team Green Support.
This guide has been issued a Utility Patent # 9469779 in USA and EU Patent # ECD2583716-0001
Our new guide is 15 grams lighter than the very light but unreliable stock guide.
For 2018-19 we have a new upper pad design that wraps around the sprocket to keep rocks and dirt from dropping in guide.
Our exclusive return memory formula plastic absorbs impacts and resist bending under load.
The wear pad bottom is longer than stock so chains jumping the sprocket are virtually eliminated.
The chain guide body is higher and narrower for racing in deep and rugged berms at high speed without bending.
Not recommended for off road please use our Extreme Guide , This is a race day "WORKS" part designed at an affordable pricel
OE style bolts and one year warranty on breakage (in USA only).
Available in Black and KAW Green at this moment.
DBR TM Designworks MX Shell and Inner Rub Block Chain Guide : $79.00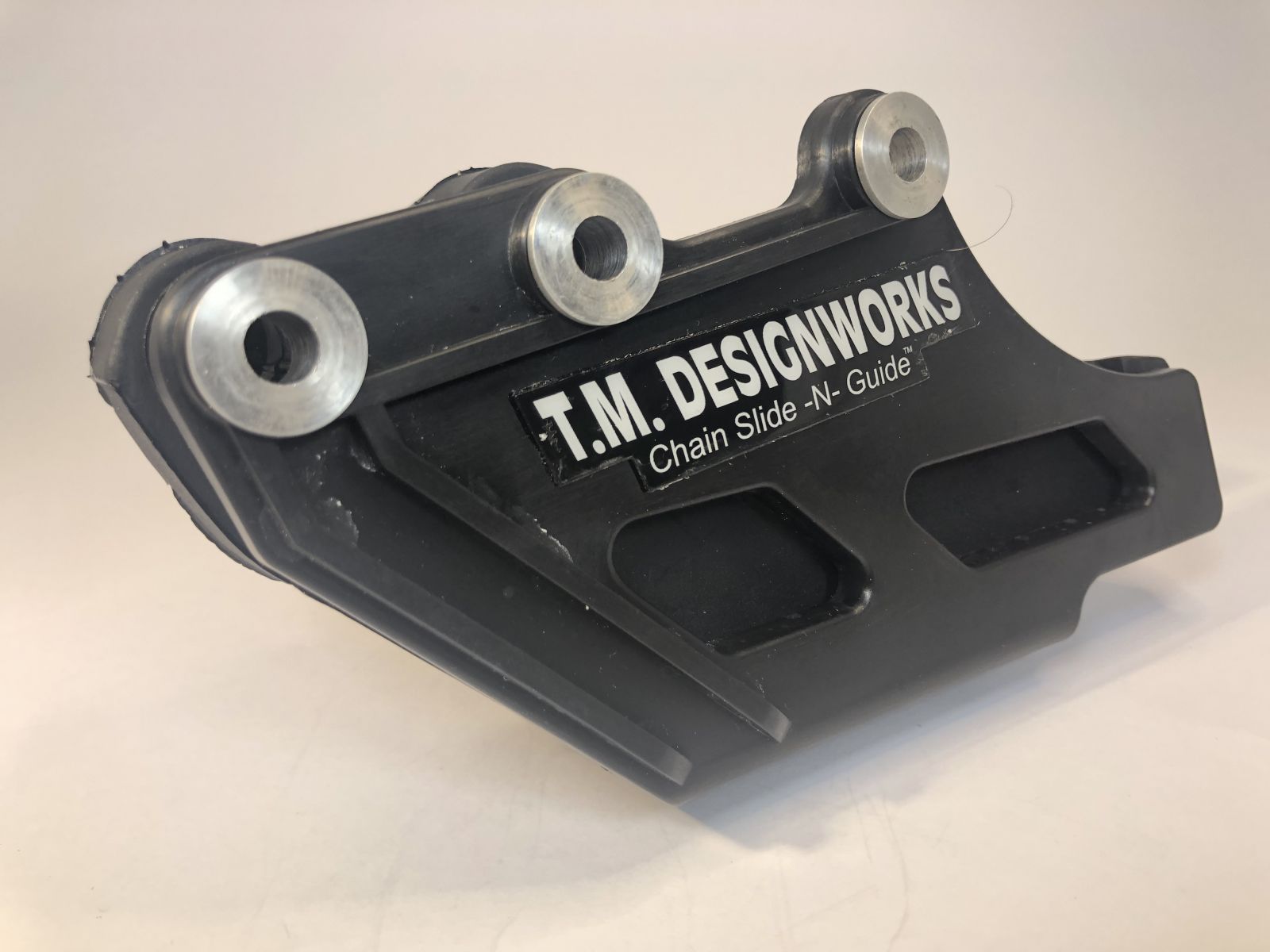 Features:
New version 2 design with revolutionary "POLIFIBAR" plastic formula for greater overall strength & abrasion resistance.
The first multipurpose composite formula using the best of a poly, carbon, kevlar based materials.
This updated rear chain guide shell is designed for use in MX, SX, or OEM replacement use.
Uses the stock or TMD upgrade replacement inner chain rub block insert, stock or aftermarket.
Cool looking lightweight cutouts make it look like a "one off" Factory Race Bike!
100% molded with TMD's RMS (Return Memory System) to produce a shell that won't bend like aluminum on impact.
Outside reinforcing ribs add strength and help deflect rocks and dirt.
UV stabilizers ensure our perfect OE color match won't fade under constant sunlight.
Kawasaki Chain Guides

First Select A/B/C depending on your model and year. Then Choose the type of chain guide Extreme / SX or MX from list.Note Shell Only or inner rub block only available for some models. Finally then your Colour. Please phone if you need advise 02 4872 4222

Model

Year

DBR Part No

Types available for Model of Bike

KX

65

(98-C)

TM-CG-KAW-65

Extreme

KX

85/100

(99-C)

TM-CG-KAW-85

Extreme

KX

125

(97-08)

TM-CG-KAW-A

Extreme

KX

250

(97-08)

TM-CG-KAW-A

Extreme

MXS

KXF

250

(05-08)

TM-CG-KAW-A

Extreme

MXS

(09-19)

TM-CG-KAW-B

Extreme

SuperX

(20->C)

TM-CG-KAW-C

Extreme

KXF

450

(05-08)

TM-CG-KAW-A

Extreme

MXS

(09-18)

TM-CG-KAW-B

Extreme

SuperX

(19->C)

TM-CG-KAW-C

Extreme

KLX

450

(08-12)

TM-CG-KAW-A

Extreme

MXS

(13->C)

TM-CG-KAW-B

Extreme

SuperX
Specifications
| | |
| --- | --- |
| SKU | DBR-TM-CG-KAW |
| Brand | TM Designworks |
| Shipping Weight | 0.3000kg |
| Shipping Width | 0.030m |
| Shipping Height | 0.100m |
| Shipping Length | 0.300m |
Reviews
Be The First To Review This Product!
Help other Dirt Bike users shop smarter by writing reviews for products you have purchased.
---
We Also Recommend
---
More From This Category