Description
Click here to design your colour combo on Haans Site then return here for purchase.
http://custom.haanwheels.com/configurator/configure/17/?qty=1
HAAN "FACTORY" Husqvarna 701 RALLY WHEEL ASSEMBLY
Yamaha's Factory Dakar Effort purchased the exact same wheels just like you can from DIRTBIKE PTY LTD !!
Used in Australia by Factory Teams such as GHR Honda and leading privateers to win the Australian Safari / Condo 750 / A4DE / AORC / Finke / Hattah Outright !!
Used by 50% of world MX teams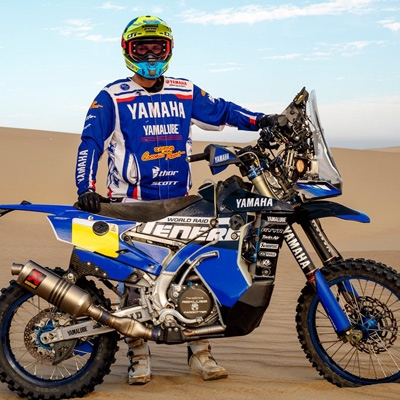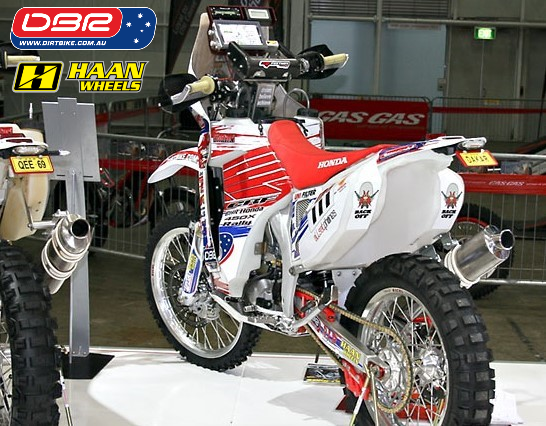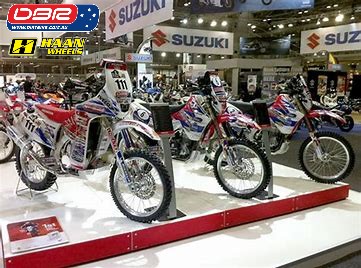 Ok so what is the Husky 701 Factory Rally Wheel Set. This wheel set is quite simply the strongest combo possible for the Husky 701 Offroad. We start with a HAAN cush drive rear hub and then lace that to the Excel Takasako Rim with the best spokes made from Haan. Sounds simple but why buy them from Dirtbike Pty Ltd
Dirtbike Pty Ltd is also owned by myself Glenn Hoffmann which was resposible for the GHR Honda Outrigh victories at Finke / Australian Safari / Condo 750 / Hattah / Australian Offroad Championships / Four Day and Aussie Supermoto Titles , GHR Honda had many rental bikes also at these events and two successful campaigns at Dakar using what I call the Rally wheels at the Desert Events.
For the Husky 701 we use a 21" front size and 18" rear size Exactly like the Factory Rally Husqvarna Bikes of Pablo and Shorty. This is the ultimate set up should you want to use tyres more suited to offroad use and mousse, you can of course use traditional tyres and Heavy Duty tubes if you like also no problem.
The advantage of the Rally Rim is it is much more reliable than even a normal excel purchased from other vendors. 300,000km with riders like Grabbo and the Smith boys have taught us what combo works best and no rider has ever suffered a wheel failure on our Rally Wheels and no they are not A 60's. You are welcome to phone and I will discuss the difference in person.
The original front brake discs and ABS ring can be fitted from your existing wheels (or you can go onto our search by bike Husky 701 you can then purchase the nesessary discs / ABS ring front and rear along with which tooth sprocket / rear disc and ABS ring. This will allow you to maybe use your original rims with more road oriented tyres for commuting and then fit your Rally Set when hitting the dirt for your big adventures. Some people simply sell their original wheels and put the money towards the Rally set.
Other Rally wheel mods can include grease nipples kit which allow you to inject mousse gel into the rear wheel and tyre externally. Another GHR first. This allows you to extend the life of the tyre and mousse considerably. GHR Hondas have logged over 300,000 km on these rims with mousse and never suffered a failed mousse or Rim that was unrideable. The KTM Factory Rally Twin cylinder race bikes of Meoni and Sala back in the day used these sizes of rims so they are proven on a 200kg dirt bike and of course are perfect for the lighter 701. Michelin make three different rear mousse in 18" and Excell alone make 5 different 18" rims that other vendors may try to sell you. Only one of the mousse is suitable for long distance racing or trailriding and then matched to the correct rim size and crown. YES excel have different crowns in this size which make fitting tyres and mousse more difficult if you get the wrong combo. On top of that you then need to run the correct tyre to match the mousse and rim.
With the correct rear rim size and crown matched to the correct tyre and Mousse GHR has never suffered a rear wheel failure or mousse failure in a event which has caused a DNF for either a lead rider or customer. In fact Gary Gray from Cobar won a competition with ADB to ride a GHR Honda XR 650 on Safari. He Completed the entire event 4,500km on one rear tyre and Mousse in 12th Outright. Never changed , fact!!
Haan Billet Hub made in Holland from 6082 Aluminium.

Excel Aftermarket 7000 Series Rims - made in Japan.

Super heavy duty spokes, from Haan.

Nickel-plated steel heavy duty nipples.

Customize your wheels with your favourite colour combinations.

Although every effort is made to ensure provided information is correct, Haan / Excel accepts no liability for any errors or any consequences which may arise due to such errors. Haan / Excel also reserves the right to change specifications, discontinue or introduce new products without prior notice. All product images presented are for illustrative purposes only and may vary from actual product depending on bike application.

Excel Takasago Husky 701 Rally Rims are available in Black, Silver, and Gold.

Husky 701 Rally Hubs are available in Blue / Silver / Black

Our spokes are made from a special stainless steel. The spokes are made to the needed size in the Haan factory.

Up to 30% stronger than original spokes.

So if you are interested in a set please feel free to phone to discuss.
Specifications
| | |
| --- | --- |
| SKU | Haan-Rally-HUS-701-SET |
| Brand | Haan |
| Shipping Weight | 15.0000kg |
Reviews
Be The First To Review This Product!
Help other Dirt Bike users shop smarter by writing reviews for products you have purchased.
---
Others Also Bought
---
More From This Category