Sprockets
DBR Sprockets and Disk Rotors are bringing in a new level of performance to the world of Off-Road racing and riding. The sprockets alone are wearing up to 15 times longer than conventional designs.
The sprockets are made of heat treated, nickel/chrome plated, chrome-molly steel that is 2.5 times stronger than stainless steel; 3 times stronger than 7075 aluminium.
A DBR sprocket typically weighs only a fraction more than the best aluminium sprocket but is considerably lighter than the standard steel. With a wear rate that is up to 15 times better than alloy and with the lighter weight it is the ultimate sprocket.
When you experience the light-weight design and great price , there is no better choice than a high quality, US-made Sprocket.

GHR Honda was able to have 9 bikes complete the 2008 Australasian Safari on their original
DBR Sprockets. A Standard aluminium sprocket would have lasted one day and not the
entire 6 Days/5000kms.
DBR are also bringing on-line a range of brake rotors with the ultimate combination
of durability, wear resistance and stopping power (see Brake Discs on left).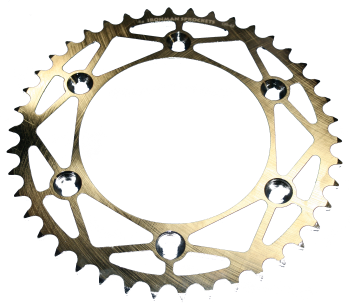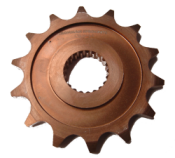 The Birth of a Sprocket
The sprockets begin their life in 3D modeling to optimise stress distribution and weight savings. Then programming code is transferred to CNC laser cutting machine that is accurate within .001\" (that is one third the thickness of a human hair).
They are heat treated to the hardness of a Snap-On brand wrench.
The sprockets are then precision surface ground flat to within .001\".
Finishing details are CNC machined.
Sprockets are then de-burred and nickel plated for corrosion and additional wear protection.
They are inspected for tolerance and run out.
They are laser engraved with the model and manufacturing info.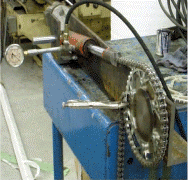 How strong is our Sprocket?
The picture above shows one of the manufacturers test fixtures. A chain on a CR500 can see up to about 1800 pounds of tension. This fixture can easily take the chain to its breaking point of 7000 pounds. Each of the sprocket designs are loaded to 5500 pounds of chain tension while measuring the deflection at the sprocket rim. After testing new patterns, our sprockets are then installed on only open class, 400cc and larger bikes for the \"acid test\". They are then run under desert and motocross race conditions for 200 hours. At two week intervals they are removed and measured for wear. If after 200 hours the sprockets exhibit less than .002\" of wear (that is less than the thickness of a human hair), the design is put into production.
---